Black Friday Deals on History Books and Courses
Posted By Claire on November 23, 2016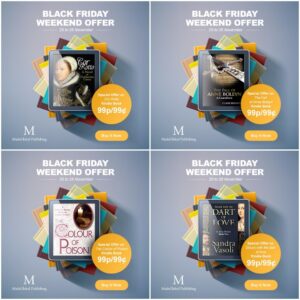 You may have seen my post on Monday about how the kindle versions of all of my books are going to be Kindle Countdown Deals from 25th to 28th November inclusive, well, I have some more good news…
MadeGlobal Publishing have made ALL of their kindle books available at $0.99 or 99p from 25th to 28th November! There are history non-fiction books, biographies, historical novels, children's books, contemporary novels, the "in a nutshell" history series… Lots to choose from and a great way to fill your kindle!
Click here to see the list of books included in this promotion, with links to buy them, and bookmark it for Friday!
If you don't have a kindle then don't despair, Amazon offer free kindle reading apps for smartphones, tablets, PCs and Macs so you can still take advantage of these offers – see https://www.amazon.com/kindle-dbs/fd/kcp or https://www.amazon.co.uk/gp/digital/fiona/kcp-landing-page.
If you prefer physical books, MadeGlobal.com is offering their books at discounted prices and with signed bookplates directly from their website's shop – https://www.madeglobal.com/shop/.
And that's not all! There is also a Black Friday weekend sale on MedievalCourses.com's online history courses – see https://medievalcourses.com/black-friday-weekend-25-discount/ or click on the banner below for all the details. My favourite courses there are "Everyday Life of Medieval Folk" and "The Six Wives of Henry VIII: Monarchy and Matrimony in Tudor England".