#PortraitTuesday – The Loseley House HA Anne Boleyn Portrait
Posted By Claire on July 25, 2023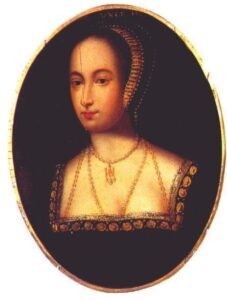 This week's #PortraitTuesday treat is a gorgeous portrait of Anne Boleyn wearing a HA pendant on her pearl necklace, rather than the usual B pendant. It is from the collection at Loseley House in Surrey.
Henry VIII and Anne Boleyn did make use of a HA cypher and some of them even survived to be listed in the inventory taken following Henry VIII's death in 1547:
Item 163 – "Item one Layer of mother of perle garnished with golde enameled with H and A knytt togethers and the kinges armes in the topp of the cover and H A embossed on the foote thereof poiz xxxiiij oz."
Item 703 – "Item one other Cuppe glasse fasshion gilt graven with H and A crowned vpon the body with a couer parcell of the vyces wayeng xix quarter."
Item 723 – "Item one Cuppe glasse fasshion gilt chased with H A vpon the toppe of the couer a woman holding in thone hande a ball and in thother hand a Shielde poiz xix oz."
Item 674 – "Item one standing Cuppe guilt and wrought with Antique worke with a couer hauing H and A in the toppe poiz xxxj oz iij quarters."
Item 700 – "Item one litell standing Cuppe guilt chased with a Couer hauing a naked boye in the toppe holding a staffe in thone hande and a playne Shielde in thother hauing also the lettres H and A wrought in the places of the Couer weyeng xxij oz."
Item 790 – "Item three gilt bolles chased with long bullyons or doppes hauing Antique heddes in the botome with a cover with H and A therevpon weyeng Cxiij oz."
The portrait has not been dated, but is thought to be 18th century.
Source
Starkey, David ed. (1998) The Inventory of King Henry VIII: The Transcript, Society of Antiquaries & Harvey Miller.