#PortraitTuesday – The Anne Boleyn miniature by Lucas Cornelisz
Posted By Claire on July 18, 2023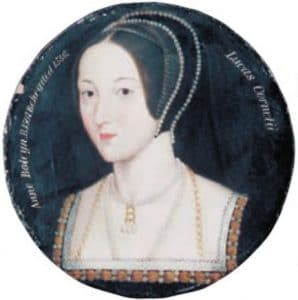 Today's #PortraitTuesday treat is a lovely miniature of Queen Anne Boleyn by Dutch artist Lucas Cornelisz de Kock (c.1493–1552).
According to Michael Bryan, in his "Dictionary of Painters and Engravers", Cornelisz became a court painter to Henry VIII after having worked as a cook (hence "de Kock") in his native country to support his family.
Bryan writes:
"Of his works in England, the sixteen portraits of the Constables of Queenborough Castle, at Penshurst, are the most considerable; and though few of them can be original paintings, they possess great merit. At Hampton Court there are four small female portraits, probably copies, attributed to him."
Bryan does not mention this miniature of Anne Boleyn, but it is labelled "Lucas Cornelii" so must surely be by Cornelisz.
the 16th century artist and art historian Karel van Mander writes that Robert Dudley, Earl of Leicester, brought some of Cornelisz' works back to England from the Netherlands when he was governor there.