#PortraitTuesday – A drawing of a woman said to be Anne Boleyn by Hans Holbein the Younger
Posted By Claire on August 8, 2023
This week's #PortraitTuesday treat is another drawing from Hans Holbein the Younger, an artist who was at the royal court while Anne Boleyn was married to King Henry VIII.
This lovely sketch is in the collection of the British Museum, who describe it as:
"Portrait of a lady, formerly thought to be Anne Boleyn, head and shoulders of a woman turned to right and looking to right, wearing a head-dress, necklace and bodice with a square neckline.
Black chalk, partly stumped, and red chalk, with brush drawing in black ink, and with yellow wash; on pale pink prepared paper; corners cut diagonally."
The sitter's former identity as Anne Boleyn comes from an inscription on the drawing. It wasn't inscribed by Holbein, the British Museum explains that it is "Inscribed in a seventeenth-century hand in brown ink, to the left of the sitter, "Anna Bullen de collata / Fuit Londini 19 May 1536"".
The drawing has inspired a number of portraits "after Holbein", including this one, which I shared a few weeks ago, the Hever Castle Anne Boleyn portrait which usually hangs in the inner hall of the castle: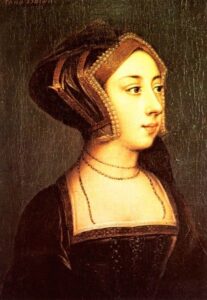 You can read more about this Holbein Drawing on The British Museum website – https://www.britishmuseum.org/collection/object/P_1975-0621-22