9 May 1536 – Lots going on at the royal court
Posted By Claire on May 9, 2018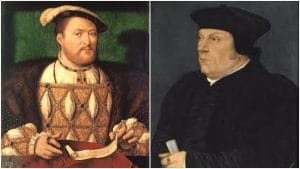 By this day in Tudor history, 9th May 1536, there were eight new prisoners in the Tower of London. All had been arrested between 30th April and 5th May, and things were moving fast.
On Tuesday 9th May 1536, King Henry VIII wrote to his principal secretary and right-hand man, Thomas Cromwell, "commanding him to repair to the King to treat of matters relating to the surety of his person, his honor, and the tranquillity of the realm". He wanted an update. On the same day, a council meeting was summoned.
Meanwhile, the Justices of the King's Bench were sending orders to the sheriffs of London to assemble a grand jury at Westminster on 10th May. They were to rule on offences alleged to have taken place in the county of Middlesex.