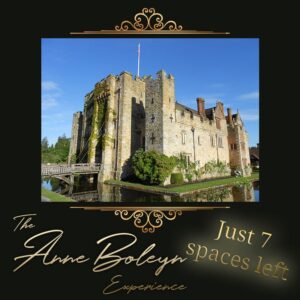 Just a quick post to let you know that Philippa has just taken another booking so there are only 7 spaces left on this year's Anne Boleyn Experience tour.
You can secure your place with a deposit on the tour page – click here.
I am quite literally counting the days to this year's tour (118 days!) as I can't wait to be back at Hever Castle and to be talking Tudor with people who love Anne Boleyn and all things Tudor as much as I do. It's also a real pinch-me moment and an absolute honour to talk about Queen Anne Boleyn at her home. I do get rather choked (note: pack tissues)!
Here are some details about the tour if you have missed my previous posts about it.
Dates: 12-16 May 2019
Location: Stay in luxury accommodation in the private Astor Wing of Hever Castle
Stay at Anne Boleyn's home for the duration of this 4 night Anne Boleyn Experience tour focusing on the life and death of Queen Anne Boleyn, second wife of King Henry VIII and including a visit to the site of her execution.
During the tour you will visit three Tudor landmarks: Penshurst Place, the Tower of London and Hever Castle, where you will be staying for the duration of the tour in a private wing for our exclusive use. It really is amazing to wake up each morning and be able to stroll around the grounds before breakfast or go for a moonlit walk after dinner, it's out of this world!
The tour is led by Claire Ridgway of The Anne Boleyn Files and The Tudor Society, and Philippa Lacey Brewell of British History Tours and British History with Philippa Lacey Brewell.
Special perks: Claire Ridgway (that's me!) is on hand for the whole tour to grill about Anne Boleyn – I'm a night-owl so don't mind staying up and talking Tudor all night! Philippa, the Queen of Organization is on hand all of the time to help you (she's such a whiz!). We eat in the main castle dining room on one of the nights, we have out-of-hours access to the grounds and a private out-of-hours tour of the castle. It really is amazing.
Here are some videos I made about the tour:
Claire talks about the magic of Hever
Claire's best memories of the 2018 tour
Claire looks forward to the tour
Here are some of my favourite photos from the Anne Boleyn Experience 2018: