Celebrating 10 Years of the Anne Boleyn Files with a giveaway!
Posted By Claire on February 17, 2019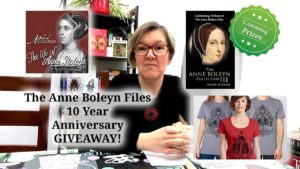 I can't quite believe that it's been 10 years since I wrote my very first post on the Anne Boleyn Files website, but it's true! 10 years of researching and writing about Tudor history full-time, and what a journey it's been! I've met so many wonderful people on that journey and received so much encouragement and support, and I feel very blessed.
I love the research and writing I do, but what I really love is sharing it with others, receiving feedback, talking Tudor and interacting with people from all over the world that share my love of Tudor history.
When I wrote my first post on this website, I really didn't believe that anyone else would ever read it. I saw this blog as a diary of my research and practice for my writing. I never for a single moment thought that it would turn into what it has. So many things have led from that, it's incredible.
I couldn't have done any of it without the encouragement and support I receive on a daily basis. Just when I'm feeling fried, that I just can't do it anymore because there's too much to do, I'll receive a message of thanks and that's all it takes to raise my spirits. It's wonderful. As a thankyou for all the support, I'm doing a giveaway of some Anne Boleyn goodies – my course on The Life of Anne Boleyn, the Anne Boleyn colouring book, an Anne Boleyn (or Elizabeth I) t-shirt, a signed copy of my forthcoming book, The Anne Boleyn Collection III, plus a mention in it!
Usually, when I run a giveaway or a competition, I get you to leave a comment about something, but this one's a bit different. You can enter in lots of different ways and also 'earn' extra entries by taking 'actions', for example, just visiting The Anne Boleyn Files Facebook page. As always, it's open internationally.
Here's the widget which allows you to enter, but if you can't see it on your device then you can go to https://gleam.io/qj3PF/anne-boleyn-files-10-year-anniversary-giveaway