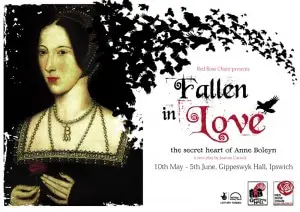 Joanna Carrick, artistic director of the Red Rose Chain Film and Theatre company and writer and director of "Fallen in Love: The Secret Heart of Anne Boleyn", has been kind enough to answer some questions for us here at The Anne Boleyn Files – thanks, Joanna!
What inspired you to write a play about Anne Boleyn?
I was inspired to write "Fallen in Love" because Anne Boleyn's life is a great women's story and in Ipswich we have many local connections. There is a legend that Anne's heart was buried at the local Parish church of Erwarton. I was fascinated by this as a child and remember looking round the Church and seeing the street name Boleyn Place and the local "Queen's Head" pub. I also had a friend at school who lived in Erwarton Hall where Anne's aunt and Uncle lived and where Anne is said to have visited as a child. I remember visiting the Hall and hearing the various theories about when Anne's ghost could be seen walking there.
Ipswich is also the home town of Thomas Wolsey – a key figure in the story – and St. Peter's Church here contains Wolsey's College Chapel and "Wolsey Gate" is still standing down by the water front. The Heritage Lottery Fund, liked my proposal and agreed to fund the project.
How did you go about researching her life?
Researching this play has been an amazing experience. Of course I've read and re-read lots of books. The most influential have been Alison Weir's "Lady in the Tower" and of course Eric Ives but also Antonia Fraser's Six Wives and Suzannah Lipscomb's "1536". As a dramatist, original source material is very important to me and particularly Henry's letters to Anne and the incredible scaffold speeches of George and Anne. I have to say, I've also become slightly addicted to The Anne Boleyn Files!
As Artistic Director of Red Rose Chain, I have the privilege of leading a group called "The History Girls" – which is a group of women recovering from Class A Drug Addiction and often moving away from exploitation and prostitution. These women, who have been failed by the Education System, have flourished in the group and become experts on Anne's story. We have explored the history together, really getting deeply into the psychology of the characters and the girls have also created their own play, a modern adaptation of the historical events which will be performed on certain nights during the run after "Fallen in Love". We've also been on historical trips together, including The Tower of London – where the girls were extremely affected by the graffiti in the Beauchamp Tower. For me, the most profound experience of the research process was staying in Fish Court – a Landmark Trust Property inside Hampton Court for a long weekend. We had the opportunity to wander about the Palace after hours and the atmosphere in the evenings was overwhelmingly powerful. It gave me for the first time, a real insight into the attraction for Anne of being Henry's Queen.
Who do you think was responsible for Anne Boleyn's fall?
Cromwell – but he wouldn't have been able to do it without the selfishness, cruelty and paranoia of Henry or if Anne had given birth to the all important son she wanted so much.
Joanna Denny says of Anne Boleyn "No English Queen has made more impact on the history of the nation than Anne Boleyn, and few have been so persistently maligned" – would you agree? What are your thoughts on Anne Boleyn now you have researched her?
I've grown to love Anne through the process. Of course she was a flawed human being but that only serves to make her more fascinating and easy to empathise with. She was bright and courageous, modern and full of life. I think she has been maligned but increasingly she is more and more celebrated for her individuality and guts and style. Of course she made a massive impact with her desire to bring the English Bible to the people and her example as a powerful woman in a society where women were powerless to a great extent. She also gave us Elizabeth, the world's greatest Queen and her mother's daughter in so many ways.
Why do you think Anne Boleyn is still inspiring us today to write books, plays, movies etc. about her?
Because her story is a tragedy in the true sense of the word. It's a love story and a story of a charismatic woman overcoming many adversities to achieve her ambition. It's a story of greatness but also of a great fall. It has unanswered questions, villains, incest, tenderness, passion and betrayal. In death, Anne's courage, dignity and faith too are inspiring and comforting to people almost five hundred years on.
Who is the Anne Boleyn of your play? What is she like?
She's an ambitious and driven woman who adores her brother and works with him as a team to fulfil her ambitions. She is a woman bewitched by greatness who makes an unforgettable impression on everyone she meets. She's a queen and sister and a mother… a fallible superstar. I hope you'll come and see her in action.
Fallen in Love: The Secret Heart of Anne Boleyn
10th May to 5th June 2011 at Gippeswyk Hall, Ipswich, Suffolk. Details and booking on 01473 603388 or at www.redrosechain.com
Fallen In Love will be performed in the grounds of Gippeswyk Hall, Ipswich, Red Rose Chain's breathtaking new home. The lawn behind the Grade II* listed manor house will play host to a unique theatre tent, as audiences are invited to step inside and experience the sights and sounds of Tudor England. There are two performances every evening except Mondays, with a total of 48 shows.
Follow Joanna's blog at Fallen in Love Director's Blog