Happy Birthday to the Anne Boleyn Files and thank you!
Posted By Claire on February 17, 2017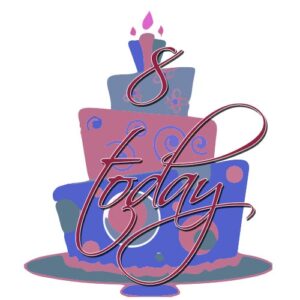 Dear Anne Boleyn Files follower,
I can't quite believe that it's been 8 years since I wrote my very first post here on the Anne Boleyn Files blog! What a journey it's been!
It's been a wonderful eight years and I've made so many friends on the way. I've also gone from amateur blogger to author – something which I've wanted to be since the age of 11! – and from researching Tudor history in my spare time to being a full-time researcher and writer. I still have to pinch myself!
I'd like to take this opportunity to thank all of you Anne Boleyn Files followers for your constant support. There have been many times when I've felt like giving up on the whole thing, but you've kept me going with your feedback and encouragement. Thank you also to my fellow authors, researchers and historians for your advice and encouragement. Also big thank you to my family for allowing me to surround myself with books, for coping with me immersing myself in the 16th century and for listening to my occasional (ok, perhaps more than occasional!) historical ranting!
And finally a big thank you to Anne Boleyn for existing and for being so fascinating. I never tire of your story.
The Anne Boleyn Files only still exists on this day in 2017 because of you, dear reader. Thank you from the bottom of my heart.
Love
Claire