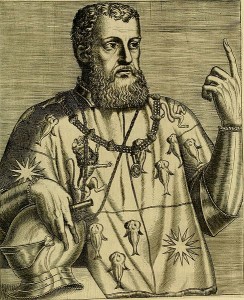 On this day in history, 11th November 1534, Philippe de Chabot, Seigneur De Brion and Admiral of France, landed on English soil. As the French ambassador to England, his visit was apparently intended to renew relations between England and France, so was an important one.
George Boleyn, Lord Rochford, was chosen to meet the Admiral and escort him from Dover to London, no easy task, when according to Eustace Chapuys, the Imperial ambassador, he had a huge train consisting of over 350 horses!
Letters and Papers includes letters from George Boleyn at this time showing just what an administrative nightmare this visit was. First, George writes to Lord Lisle in Calais:-
"I have sent the bearer, the King's servant, only to bring me sure word in what sort the Admiral will cross the sea, and whether he will send his train before him or come first himself. I beg you to inquire and send word by the bearer, and that he may have the first passage after the Admiral has arrived at Calais. Vaghan, the bailly of Dover, whom you have required to come to Calais as one of the retinue there, cannot be spared, as the Admiral is lodged in his house. Commend me to my lady. Dover, 6 Nov."1
We can see George's concern over the travel arrangements of the Admiral and his train.
Then, on the 11th November 1534, we have a letter from George to his uncle, the Duke of Norfolk, who was also involved in the Admiral's travel arrangements:-
"The Admiral arrived this day at 10 o'clock. I and such as were commanded to attend met him at his landing, and brought him to Dover. Next day he goes to Canterbury, where he wishes to stop all day, that his train may meet him. I have sent the King the names of all of them. You shall be sure to hear from me from Canterbury. Dover, 11 Nov."2
The Admiral has landed but he obviously wants to wait for his train.
Then, on the 14th November, George writes to Henry VIII explaining the delay:-
"The admiral of France has remained here since Thursday night. His whole train is not yet disembarked. Will convey him to Sittingbourn on Monday, there to stay the night, and to Rochester on Tuesday, on Wednesday to Dartford, and on Thursday by 12 noon to Blackheath, where Norfolk is appointed to meet him. Canterbury. Saturday, 14 Nov."3
Poor George!
According to Chapuys's reports to Charles V, the Admiral finally arrived in London on the 17th November. Chapuys explains that he was held up because of him having to wait for his train to cross the Channel but also "to give leisure to those here to make the necessary preparations for his reception"4. Chapuys then goes on to write of how the King had arranged for "a number of beautiful ladies to come to the Court" and had "proclaimed by sound of the trumpet that no one should dare to do the least outrage or speak any injurious word of any of the said Admiral's company". The King "also proclaimed that on the coming of the said Admiral to Court, no gentleman beneath the degree of lord should pass further than the lower hall (la basse salle), to give place to the nobility who come with the Admiral." Chapuys comments on how this "prohibition" would only "increase the hatred this nation bears to the French."
We learn from Chapuys what the Admiral discussed with the King and it was not good news for Anne and the Boleyn faction. Although the King's Council had "made propositions for the marriage of the King's second daughter"5, i.e. Anne's daughter, Elizabeth, Chapuys writes of how "opinions" had been collected in France, Italy and other parts of Europe and that it was generally thought "that even if the King's first marriage were invalid, the Princess was still legitimate, and the succession belonged to her". Europe still saw Mary as legitimate and above Elizabeth in the line of succession. Oh dear!
On his visit to England, the Admiral upset Anne Boleyn in two ways. Firstly, he snubbed her. Chapuys writes:-
"I am told he has not made much account of the Lady, and when the King asked him the first time if he would not like to see her, he replied very coldly that he would do so if it pleased the King; and this was noted by several persons."6 Then, he put forward the idea of a marriage alliance; not between the Princess Elizabeth and the Dauphin, but between Mary and the Dauphin. Chapuys commented "It is not known how the King received this proposal, but it would seem his Lady is very angry at it."7 The French tried to justify this by explaining that "there never had been any talk about marrying the Dauphin to the Infants" but it was still a snub to Anne and Elizabeth as it showed that Francis I viewed Mary's claim to the throne as better than Elizabeth's. Henry replied to Francis with a counter offer, a marriage between Elizabeth and the Duke of Angoulême, Francis I's third son, but that wasn't the same as marrying the Dauphin. Her beloved France had let Anne down.
Eric Ives writes of how "Anne nevertheless did her best to improve matters"8 towards the end of the Admiral's visit by entertaining him at a final lavish banquet, but Weir sees this unsuccessful diplomatic visit as a real turning point for Anne:-
"Anne was under immense strain at this time. The King of France was no longer her friend, she had failed to give Henry the son he so desired, and she was miserable at his continued involvement with his unnamed mistress."9
Chapuys, however, makes light of the situation, regarding any anger between the King and Queens as "merely lovers' quarrels, of which no great notice need be taken"10 and playing down "the King's passion for the young lady", whoever, she was, commenting on Henry VIII's "fickle and capricious humour". Yes, the diplomatic visit from the Admiral could have gone better for Anne Boleyn but it was far from the beginning of the end for her.
Many thanks to the lovely, and very intelligent, Clare Cherry for reminding me of this date!
Also on this Day in History
1541 – Catherine Howard, fifth wife of Henry VIII, was moved from Hampton Court Palace to Syon House where she was "examined touching Culpeper"11, i.e. her alleged relationship with Thomas Culpeper, a member of her husband's Privy Chamber.
Notes and Sources
LP vii. 1396
LP vii. 1416
LP vii. 1427
LP vii. 1437
LP vii. 1482
Ibid.
Ibid.
The Life and Death of Anne Boleyn, Eric Ives, p203
Henry VIII: The King and his Court, Alison Weir
Calendar of State Papers, Spain, Volume 5 Part 1: 1534-1535, note 118
LP xvi. 1333
Primary sources found using the wonderful British History Online.