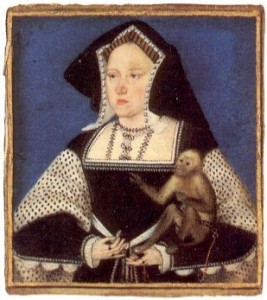 On this day in history, the night of the 9th November 1518, Catherine of Aragon gave birth to a little girl. We don't know the full details of what happened, but either the baby was stillborn or did not survive very long. Sebastian Giustinian, the Venetian ambassador reported the birth in a letter dated 10th November 1518:-
"In the past night the Queen had been delivered of a daughter, to the vexation of everybody. Never had the kingdom so anxiously desired anything as it did a prince."
And this is followed by a later report in the Venetian archives:-
"The Queen bad been delivered in her eighth month of a stillborn daughter, to the great sorrow of the nation at large."
Whatever happened, it was a huge disappointment for Catherine and Henry VIII and it was Catherine's last pregnancy. Henry's hopes of a legitimate son and heir were dashed, or so it seemed.
See "The Pregnancies of Anne Boleyn and Catherine of Aragon" for more on this subject.
Also on this day in history…
1569 – The Northern Rebellion or Rising of the North.
In November 1569 an uprising led by Charles Neville, 6th Earl of Westmorland and Thomas Percy, 7th Earl of Northumberland, sought to depose Elizabeth I, replace her with Mary Queen of Scots (who would marry the Duke of Norfolk) and restore the Catholic faith as the faith of England. Although the rebels were successful in occupying Durham, where they took mass in the cathedral, Staindrop, Darlington, Richmond, Ripon and also Barnard Castle, they were finally forced to retreat North. Northumberland and Westmorland fled to Scotland. Their rebellion had been a failure.
Notes and Sources
Calendar of State Papers Relating to English Affairs in the Archives of Venice, Volume 2: 1509-1519, 1103 and 1123
The Northern Rebellion, article from the Gunpowder Plot Society