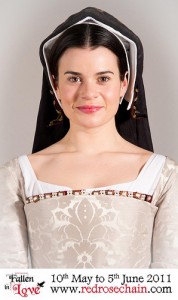 A few weeks ago I wrote about "Fallen in Love: The Secret Heart of Anne Boleyn", which is being performed at Gippeswyk Hall in Ipswich from the 10th May to 5th June 2011, and I also featured an interview with the director and writer of the play.
Well, the Red Rose Chain Film and Theatre Company have just released a trailer for the play, see You Tube video at the bottom of this post.
You can find out more about this production in the following articles:-
and on our Events 2011 Page.