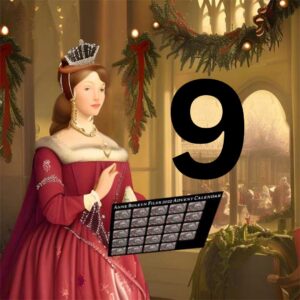 It's 9th December and that means it's time for the ninth treat from our Anne Boleyn Files Advent Calendar.
Today we have an Anne and Mary Boleyn themed contribution from Amanda Harvey Purse, author of The Boleyns: From the Tudors to the Windsors. Thank you, Amanda!
You can access the Advent Calendar (and catch up on any treats you've missed) by clicking here, clicking on the image or clicking on the website header.
I have two more Tudor treats for you:
My latest "The Tudors in their own words" video – click here.
Teasel's Tudor Trivia – 9 December – Tudor underwear – click here.