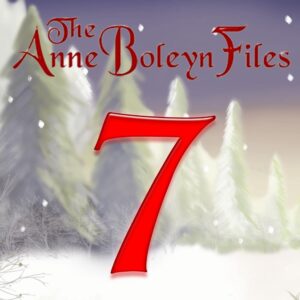 Happy Friday! It's nearly the weekend! I hope you've had a good week and I hope you have the loveliest of weekends.
Here at the Anne Boleyn Files, we have another Tudor treat for you on our Anne Boleyn Files Advent Calendar, and this time it's from my dear friend, James Peacock of the Anne Boleyn Society Facebook page – thank you, James!
It's not too late to enjoy the previous six treats either, they're all there on the calendar still! All you have to do to enjoy our Tudor treats is to click on the number 7 picture here or scroll up to the cover image at the top of this website and click on the link.
If you want even more Tudor treats – and who doesn't?! – you can have a three-day weekend of Tudor bliss over at the Tudor Society with its open weekend. Video talks, magazines, articles, a live chat, a virtual tour, resources… lots! Click here or on the banner below to register for free.