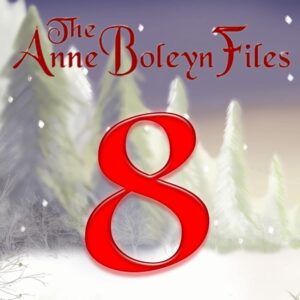 Is it me, or is December flying by? It's already 8th! That means it's time for another Tudor treat!
Today, we have a special treat from author Roland Hui and it's Elizabeth I themed. I do hope you enjoy it. Thank you so much to Roland for contributing it.
If you've only just noticed the Anne Boleyn Files Advent Calendar then don't worry, the previous seven treats are still there for you to enjoy, I haven't eaten them! All you have to do to enjoy today's treat, and any you've missed, is to click on the number 8 picture here or scroll up to the cover image at the top of this website and click on the link.
For more Tudor bliss, you can enjoy Tudor history video talks, magazines, articles, e-books and a live chat with historian Gareth Russell later today as part of the Tudor Society open weekend. Click here or on the banner below to register for free.