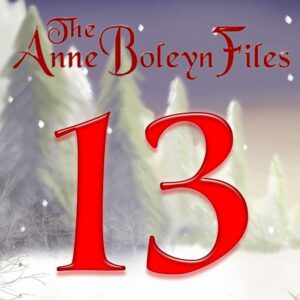 It's that time of day again! Yes, it's time for today's treat from the Anne Boleyn Files Advent Calendar!
Today's Christmassy Advent Calendar treat is from Lorna Wanstall, who many of you will know from her comments and posts on the Anne Boleyn Files and Tudor Society sites and forums. She's a realm Tudor history lover and is also working on a novel about Mary, Queen of Scots. Thank you so much, Lorna, for contributing today's treat!
All you have to do to enjoy treat 13, and the previous 12, is to either click on the picture of the number 13 here or scroll up to the top of this website and click on the link to the calendar in our cover image. You can do that on a daily basis to enjoy each day's treat at a time to suit you.