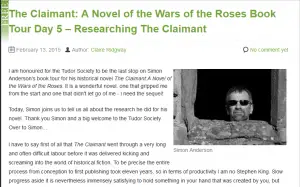 Author Simon Anderson finishes his book tour for The Claimant: A Novel of the Wars of the Roses today over at the Tudor Society.
The book took him 11 years to write and he shares with us what inspired him and the lengths he went to to make sure that his book was as authentic as possible – even ordering a made-to-measure helmet from the period and a multitude of weapons.
Do pop over to the Tudor Society and enjoy Simon's article. There is also another copy of The Claimant up for grabs so make sure you enter the giveaway over there by following the instructions. Click here to go there now.
Here is the schedule of Simon's book tour if you want to go back and enter the other giveaway and enjoy Simon's articles: