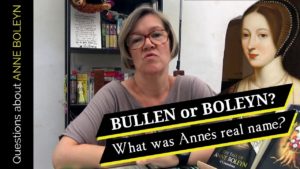 I've just published my latest "Questions about Anne Boleyn" video over on the Anne Boleyn Files and Tudor Society YouTube channel. It's a topic that I've handled before, here on the Anne Boleyn Files website, but I just had to talk about it again after receiving that message.
In the video, I answer the question "What was Anne Boleyn's real name?" by looking at how her surname was spelled in the primary sources, such as letters and documents, as well as how Anne signed her name and how it appeared on family brass memorials, and taking into account Tudor spelling, or lack of it! Tudor spellings do make me chuckle!
I also considers the myth that the Boleyns changed the spelling of their name.
Do check out the other videos in the Questions about Anne Boleyn series too – just click here to have a browse.
Links for further reading and viewing: