Did Anne Boleyn steal Henry Carey from Mary Boleyn?
Posted By Claire on August 26, 2019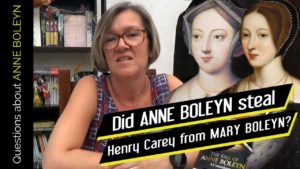 You might have been wondering where I am. Well, I'm still here, but we're having technical issues with the site after a server upgrade. We're working hard to resume normal service though.
Last week, I did another of my "Questions about Anne Boleyn" videos. It's a subject I've handled before, but it's one I keep getting questions about!
In Philippa Gregory's historical novel The Other Boleyn Girl, Anne Boleyn adopts Mary Boleyn's son, Henry Carey, without Mary's permission; she steals him.
But is this storyline true? Did Anne Boleyn really steal Henry Carey after his father's death?
In this latest instalment of my "Questions about Anne Boleyn" series, I explore what really happened to Henry Carey after William Carey died of sweating sickness.
Please do subscribe to my YouTube Channel at https://www.youtube.com/user/AnneBoleynFiles. It's such a help as YouTube then make it easier for people to find and enjoy my Tudor history videos. Thank you!