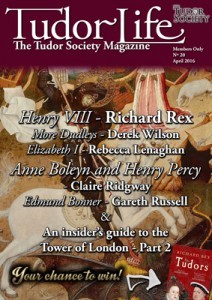 Just a quick post to alert you to April's edition of Tudor Life magazine, the magazine of the Tudor Society.
This month's feature articles include:
Anne Boleyn and Henry Percy by Claire Ridgway (me!)
Edmund Bonner by Gareth Russell
Henry VIII's Conversion by Richard Rex
The Dudleys by Derek Wilson
Elizabeth's Effervescent Endurance by Rebecca Leneghan
The Tower of London by Tara Ball
And there are also lots of article from our regular contributors on entertainment and music, Tudor food, feast days, books, places and more!
You can read a sample of the magazine, which includes my article on Anne Boleyn and Henry Percy, over at the Tudor Society – click here. Membership is just $13.40 a month and includes the digital magazine, monthly expert talks and live chats, weekly videos, weekly quizzes and much more. Go to https://www.tudorsociety.com/ for more information.