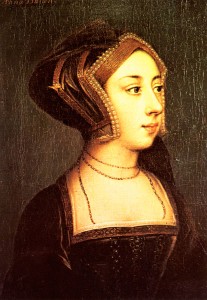 Historian and author Conor Byrne discusses Anne Boleyn's physical appearance, primary source descriptions of Anne and the controversy over her appearance in an article over on The Tudor Society website.
Here's an excerpt and you can just click on "more" to read the rest of the article.
Every aspect of Anne Boleyn's life is controversial. Her birth date, her personality, her relationship with Henry VIII, whether she was guilty of the crimes attributed to her – all of these, and more, arouse fierce debate. But it is Anne's physical appearance that is perhaps the most lingering and heated of controversies about her. Nowhere is this more apparent than in the news this week, when it was declared that the Nidd Hall portrait of Anne is in fact a realistic depiction of Anne, because of its close match to the 1534 medal bearing a defaced Anne alongside her motto 'The Most Happi'. Yet the researchers involved in this have warned that their recent findings have been misinterpreted by the press. The overall results from their research remain incomplete. So much, then, for discovering what Anne Boleyn 'really' looked like.
As Susan Bordo notes, 'beyond the dark hair and eyes, the olive skin, the small moles, and the likelihood of a tiny extra nail on her little finger, we know very little with certainty about what Anne looked like', in no small part because of the campaign of destruction waged against her by her husband after her death, in which portraits of her were destroyed. Contemporary descriptions of Anne's appearance, moreover, were rarely objective and were influenced by religious, political and cultural mores, viewing her either as a paradigm of religious virtue or as the incarnation of the Devil. Nicholas Sander, a hostile Jesuit priest writing in the reign of Anne's daughter Elizabeth I, clearly subscribed to the latter view:
You may also want to read the following articles here on The Anne Boleyn Files: