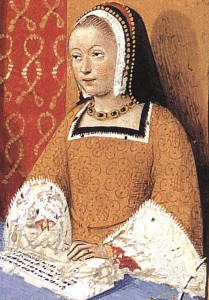 On this day in history, 9th January 1514, Anne of Brittany, queen consort of King Louis XII of France, died at the Chateau of Blois. Anne was buried in the Cathedral Basilica of Saint Denis.
Anne had been married three times. In 1490, she was married by proxy to Maximilian I of Austria, but was then forced to put this marriage aside and marry Charles VIII of France in 1491. When he died in 1498, Anne found herself being pushed into marrying the new French king, Louis XII. The couple married in 1499 after the annulment of his previous marriage.
Anne had no surviving children with Charles VIII but gave Louis XII two surviving daughters: Claude, Queen of France, and Renée, Duchess of Ferrara. Claude inherited her mother's title, Duchess of Brittany. Poor Anne is said to have been pregnant fourteen times by the time she died in 1514 at the age of thirty-six.
Louis XX went on to marry Mary Tudor, sister of Henry VIII, in October 1514 but their marriage was cut short by Louis' death on 1st January 1515. Louis was succeeded to the throne by his son-in-law, Francis I, son of Charles, Count of Angoulême, so Louis' daughter, Claude, became Queen of France.
I visited Anne's resting place at Saint Denis back in 2015 and here are photos of the tomb of Anne and Louis. You can see further photos and read more about Saint Denis is a guest article written by Yann Kergourlay – click here.