8 June 1536 – The Second Act of Succession
Posted By Claire on June 8, 2016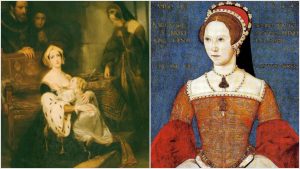 On this day in history, 8th June 1536, the sixth Parliament of the reign of Henry VIII met. It went on to pass the second Act of Succession removing Henry VIII's daughters, Mary and Elizabeth, from the line of succession and declaring them bastards.
Mary had already been declared illegitimate in the First Act of Succession, which had been passed on 23rd March 1534. That act had also declared the validity of Henry VIII's marriage to Anne Boleyn and recognised the rights of their issue, i.e. Elizabeth and any future children, to inherit the throne. However, after Anne Boleyn's fall in May 1536, it was imperative that Parliament do something to change this legislation. The Second Act of Succession confirmed the annulment of Henry VIII's marriage to Anne Boleyn and declared that "the issue of this marriage is also illegitimate", going on to state that "the succession to the throne be now therefore determined to the issue of the marriage with Queen Jane."
Parliament praised the King for his "most excellent goodness to enter into marriage again" with Jane Seymour and the bill went on to praise the new queen:
"and [forasmuch as you] have chosen and taken a right noble, virtuous, and excellent lady, Queen Jane, to your true and lawful wife; who, for her convenient years, excellent beauty, and pureness of flesh and blood, is apt to conceive issue by your Highness; which marriage is so pure and sincere, without spot, doubt or impediment […]"
How things had changed in just two over two years!
This Parliament was also the last public appearance of Henry Fitzroy, Duke of Richmond and Somerset, the illegitimate son of Henry VIII. Fitzroy was recorded as being "consumptive and incurable" by Eustace Chapuys on 8th July 1536 and died on 22nd July 1536. Click here to read more about his death.
Notes and Sources
Froude, James. The Essential James A. Froude Collection, available on Google Books, p.1305.