Posted By Claire on December 8, 2016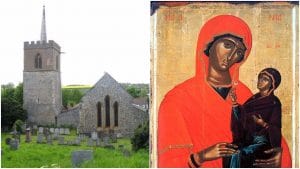 On this day in history, 8th December 1538, Sir William Coffin, courtier and Master of the Horse to Queens Anne Boleyn and Jane Seymour, died at Standon, in Hertfordshire. It is thought that he died of the plague because his wife Margaret wrote to Thomas Cromwell saying that Coffin had "died of the great sickness, full of God's marks all over his body". He was buried at the parish church in Standon, and in his will he left his hawks and best horses to the king.
8th December is and was the Feast of the Immaculate Conception in the Catholic Church (and some other Christian churches), which dates back to the 7th century when Eastern churches began celebrating the conception of the Blessed Virgin Mary. That is the origin of the feast, but the feast day as we know it today in the West dates back to around the 11th century.
Read more about this feast day and the link between St Anne and Anne Boleyn…