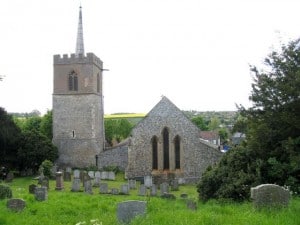 On this day in history, 8th December 1538, Sir William Coffin, courtier and Master of the Horse to Queens Anne Boleyn and Jane Seymour, died at Standon in Hertfordshire. It is thought that he died of the plague because his wife Margaret wrote to Thomas Cromwell saying that Coffin had "died of the great sickness, full of God's marks all over his body". He was buried at the parish church in Standon and in his will he left his hawks and best horses to the king.
William Coffin was born by 1492, probably at Porthledge, Devon, and first served King Henry VIII as petty captain in the King's 1513 French campaign. He joined King Henry VIII's privy chamber in 1515 and was one of the king's gentlemen ushers by 1519, serving him at the Field of the Cloth of Gold and his meeting with the emperor at Gravelines in 1520. By 1526, Coffin had become sewer of the chamber and he was Anne Boleyn's Master of the Horse at her coronation in 1533. He became a knight of the privy chamber in May 1537 and was dubbed on 18th October, following the birth of Prince Edward, the future Edward VI.
His wife, Margaret (née Dymoke, widow of Richard Vernon), was one of the women appointed by Cromwell to serve Anne Boleyn while she was imprisoned in the Tower of London in May 1536. The women were ordered not to speak to Anne unless Lady Kingston, wife of Sir William Kingston, Constable of the Tower of London, was present to remember or record what was said. After Coffin's death, Margaret went on to marry Sir Richard Manners in 1539 and she died in 1550.
Notes and Sources
Image: St Mary's Church, Standon, © Copyright John Salmon and licensed for reuse under this Creative Commons Licence.
Davies, Catharine. "Coffin, Sir William (b. in or before 1492, d. 1538)." Catharine Davies In Oxford Dictionary of National Biography, edited by H. C. G. Matthew and Brian Harrison. Oxford: OUP, 2004. Online ed., edited by Lawrence Goldman, January 2008.