4 December 1555 – Thomas Cranmer is no longer Archbishop
Posted By Claire on December 4, 2015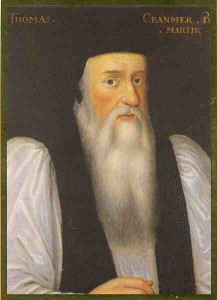 On this day in history, 4th December 1555, Papal sentence was passed on Thomas Cranmer in Rome, resulting in Cranmer being deprived of his archbishopric (Canterbury) and "of all the ecclesiastical dignities".
This sentence is recorded by Bernardo Navagero, Venetian Ambassador at Rome, to the Doge and Senate:
"On Wednesday the 4th instant consistory was held, in which they deprived the Archbishop of Canterbury of the archbishopric, and of all the ecclesiastical dignities, and moreover permitted his delivery to the temporal judicature (et di più permesso che fusse datto (sic) in mano della giustitia temporale)."1
Permission was also given for the secular authorities to decide on his fate (the part in Italian).
You can read more about Thomas Cranmer's life, career and fall in my article The Life of Archbishop Thomas Cranmer. I'd also highly recommend the book "Thomas Cranmer in a Nutshell" by Beth von Staats, it's a great read and very informative – click here to find out more about the book.
Notes and Sources
Calendar of State Papers Relating To English Affairs in the Archives of Venice, Volume 6, 1555-1558, 303.