2 December 1546 – Henry Howard, Earl of Surrey, is arrested
Posted By Claire on December 2, 2015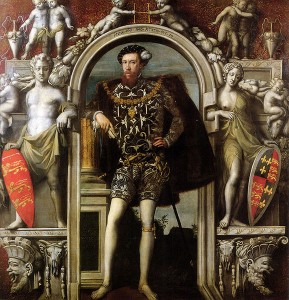 On 2nd December 1546, Henry Howard, Earl of Surrey, poet, courtier, soldier and the eldest son of Thomas Howard, 3rd Duke of Norfolk, was arrested after Richard Southwell, his former friend, gave evidence against him.
François van der Delft, the imperial ambassador, reported to Emperor Charles V on 14th December that Surrey had been "detained" but that "The reason for this is still unknown", going on to write of how the gossip was that Surrey and his father, who had also been detained by that point, "held secretly some ambiguous discourse against the King, whilst the latter was ill at Windsor six weeks ago; the object being to obtain the government of the Prince."1
The actual charge against Surrey, however, was improper heraldry. According to Southwell, Surrey had used the arms of his ancestor Edward the Confessor in a shield he'd had painted at Kenninghall, something which only the King was entitled to do, and he had placed the arms of England in the first quarter of his shield, indicating that he had a direct claim to the crown. As Edmond Bapst, Surrey's 19th century biographer points out, though, this last accusation was false: "Surrey had placed the royal arms in the second quarter, and had been careful to differentiate them by collaring the leopards."2 As I pointed out in my previous article on Surrey's arrest, Southwell's information was enough for Surrey's enemies to use against him and bring him down and the already paranoid Henry VIII, who was now in the last weeks of his life, could easily be made to believe that the Howards had designs on the regency.
On 13th January 1547, Surrey was found guilty of treason at London's Guildhall and sentenced to be hanged, drawn and quartered. The sentence was commuted to beheading and he was beheaded on Tower Hill on 19th January 1547. His father was more fortunate. The King died before he was due to be executed and although he was kept in prison for the whole of Edward VI's reign, he was released in 1553 when Mary I pardoned him.
Notes and Sources
Calendar of State Papers, Spain, Volume 8, 1545-1546, 364.
Bapst, Edmond (originally 1891 in French, translated into English 2013) Two Gentleman Poets at the Court of Henry VIII: George Boleyn and Henry Howard, p. 294.