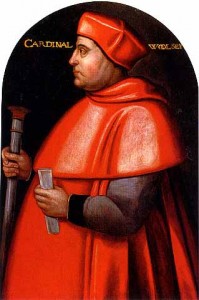 On 29th November 1530, at around eight o'clock in the morning, Cardinal Thomas Wolsey died in Leicester at the Abbey of St Mary de Pratis.
The cardinal had stopped at the abbey while travelling from his home, Cawood Castle in Yorkshire, to London to face charges of high treason. On the journey, he'd been taken ill with dysentery at Sheffield and when he arrived at Leicester he allegedly told the abbot "Father abbott I ame come hether to leave my bones among you." He was right. He died just a few days later and was laid to rest at the abbey.
Little is left of the Abbey today, but, as I say in my book Tudor Places of Great Britain, visitors to Leicester can go to Leicester Abbey Park where "site of the abbey has been preserved in the park's Abbey Grounds, a 32-acre site that covers half of the park to the west of the River Soar, which also includes a memorial to Wolsey."
Click here to read more about Wolsey's death and click here to read more about his life and career.