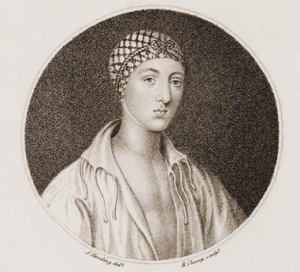 On 26th November 1533, Henry Fitzroy, Duke of Richmond and Somerset and the illegitimate son of King Henry VIII, married Mary Howard, daughter of Thomas Howard, 3rd Duke of Norfolk, at Hampton Court Palace. They were both fourteen years of age.
The wedding appears to have been rather low-key, so much so that it is not mentioned by chroniclers Edward Hall and Charles Wriothesley, and even Eustace Chapuys, the imperial ambassador, only mentions it in passing at the end of a letter to Charles V:
"I have nothing more to say, save that to-morrow the marriage of the duke of Richmond to the daughter of the duke of Norfolk is to take place."1
Richmond's biographer Beverley Murphy points out that the Pope had to grant a dispensation for the marriage on the grounds of consanguinity because the bride and groom were related. Richmond descended from Elizabeth Woodville and Mary descended from Elizabeth's sister, Katherine, Duchess of Buckingham.2 Although Chapuys' letter appears to date the marriage to 25th November, with Chapuys saying on 24th that the marriage was due to take place "to-morrow", the dispensation dates the marriage to the 26th.3
In 1527, various girls were put forward as potential brides for Richmond, including Mary of Portugal, the daughters of the Queen of Denmark, and even his half-sister Princess Mary, but they all came to nothing when the King became consumed with his own marriage problems. So how did Richmond end up marrying Mary Howard?
Well, the Duke of Norfolk, Mary's father, put it down to Henry VIII, commenting in December 1529 to Chapuys that "the King wishes the Duke to marry one of my daughters"4, as did Mary herself in a letter to Thomas Cromwell in 1538:
"The marriage was made by his [the King's] commandment without that ever I made suit therefor, or yet thought thereon, being fully concluded then with my lord of Oxford, which marriage would to Christ had taken effect […]"5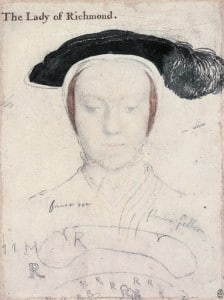 But, as Beverley Murphy points out, "the true architect of the arrangement seems to have been Anne Boleyn"
6
, and Mary's mother, Elizabeth Stafford, Duchess of Norfolk, certainly blamed Anne for it. In a letter to Cromwell in 1537 regarding her jointure and that of her daughter, she wrote "Queen Anne got the marriage clear for my lord my husband, when she did favour my lord, my husband."
7
In 1530, Chapuys wrote of how the duchess had clashed with Anne Boleyn because the duchess wanted Mary to marry the Earl of Derby "but the Lady Anne opposed it, and used such high words towards the Duchess that the latter narrowly escaped being dismissed from Court."
8
It obviously suited Anne for Richmond to be married off to one of her relations, rather than to a European princess. Murphy writes that "Henry's subsequent reluctance to acknowledge the union strongly suggests that he was persuaded into it by Anne, who cannot have viewed the prospect of Richmond making a sparkling European marriage with any pleasure."
9
The marriage was a political match, rather than a love match, and it is not clear how the couple felt about it or how well they knew each other. As Murphy points out, Mary had been at court for several months before the marriage serving her cousin, Anne Boleyn, but Richmond had been away in France for most of that time. The couple did not live together after their marriage and were not expected to consummate their union because of their youth, with Henry VIII not wanting to risk the health of his son. Unfortunately, Richmond died in July 1536 at the age of just seventeen. Mary never remarried.
Click here to read facts about Richmond and his wife Mary Howard.
Notes and Sources
Calendar of State Papers, Spain, Volume 4 Part 2, 1531-1533, 1154.
Murphy, Beverley (2011) Bastard Prince: Henry VIII's Lost Son, Chapter 4, note 20.
Text of the dispensation: "Sed quia quarto consanguinitatis gradu invicem conjuncti estis, vestrum in hac parte desiderium non potestis adimplere, canonica dispensatione desuper non obtenta. — Henricus dux Richmondiae; et Somerset, com. de Nottingham, magnus admirallus Ang. et praeclara femina Maria Howard praepotentis viri Tho. ducis de Norfolcia filia. — Richard. Gwent deputatus pro Pet. de Vannes, 26° Nov. 1533, 11° pontif. Clem. VII.", quoted in The Works of Henry Howard: Works of Surrey Vol. I, ed. Geo. Fred. Nott, p.xxviii, citing "Frere's MSS Collections". Nott states that he was indebted to Rev. Temple Frere for the use of his collection of documents respecting the Howard family.
Calendar of State Papers, Spain, Volume 4 Part 1, 1529-30, 228.
ed. Everett, Mary Anne (1846) Letters of royal and illustrious ladies of Great Britain, from the commencement of the twelfth century to the close of the reign of Queen Mary, p. 373-4.
Murphy, p. 123.
Everett, p. 363.
Calendar of State Papers, Spain, Volume 4 Part 1, 1529-30, 460.
Murphy, p. 124.