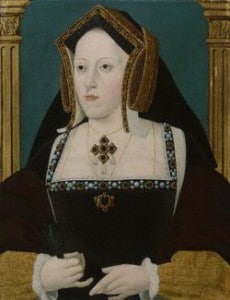 On this day in Tudor history, 7th January 1536, at two o'clock in the afternoon, King Henry VIII's first wife, Catherine of Aragon, who had been demoted to Dowager Princess of Wales, died at Kimbolton Castle.
Catherine had been ill for several months, but had felt worse after drinking a draught of Welsh beer in December 1535, which, of course, gave rise to rumours that she'd been poisoned.
Click here to read more about her final days and death.
Every year, Peterborough Cathedral, Catherine of Aragon's resting place, hold a special festival in her honour. This year's Katharine of Aragon Festival is taking place 27-29 January.
You can see the programme at https://www.peterborough-cathedral.org.uk/katharine.aspx