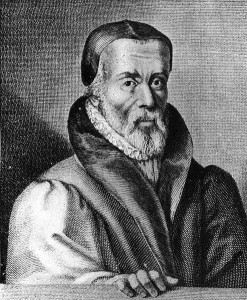 On this day in history, 6th October 1536…
Traditional date given to the execution of reformer, scholar and Bible translator, William Tyndale. Tyndale, whose works include "The Obedience of a Christian Man" (a book Anne Boleyn shared with Henry VIII), had incurred the wrath of Henry VIII after the publication of his "The Practyse of Prelates", in which he opposed Henry VIII's planned annulment from Catherine of Aragon.
Henry VIII was determined to get the man he viewed as a traitor and heretic apprehended and in 1535 Tyndale was betrayed by an Englishman, Henry Philips, and arrested in Antwerp.
According to John Foxe, he was then taken to the "castle of Filford" (Vilvoorde), eighteen miles form Antwerp, and imprisoned there for a year and a half. Tyndale was then tried and "condemned by virtue of the emperor's decree". The exact date of his execution is not known but it is traditionally commemorated on the 6th October. Foxe writes of his execution:-
"He was tied to the stake, and then strangled first by the hangman, and afterwards consumed with fire in the town of Filford, A.D. 1536; crying thus at the stake with a fervent zeal, and a loud voice, "Lord, open the King of England's eyes." "
Foxe goes on to say of Tyndale:-
"Such was the power of the doctrine, and sincerity of life of this amiable man, and glorious martyr, that during his imprisonment, he converted the keeper, his daughter and others of his household. Also all that were conversant with him in the castle, acknowledged, that "if her were not a good Christian, they could not tell whom to trust."… Suffice it to say, that he was one of those who by his works shone as a sun of light amidst a dark world, and gave evidence that he was a faithful servant of his master and Savior, Jesus Christ."
RIP William Tyndale. Your work lives on today in the King James Bible, which drew on your earlier translations.
Notes and Sources
Book of Martyrs, John Foxe