31 January 1510 – Catherine of Aragon suffers a still-birth
Posted By Claire on January 31, 2015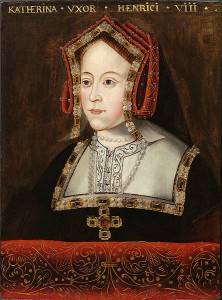 On this day in history, 31 January 1510, Queen Catherine of Aragon went into premature labour and gave birth to a still-born daughter. Her confessor, Fray Diego, reported that the birth had occurred "without any other pain except that one knee pained her the night before."
Although she had lost her baby, Catherine's abdomen stayed rounded and actually began to increase in size, leading her physician to conclude that "the Queen remained pregnant of another child and it was believed". They believed that Catherine had lost one of a pair of twins. The couple, who had obviously been saddened at the loss of their little girl, clung onto this diagnosis even when Catherine began to menstruate again. At the end of February 1510, Henry ordered the refurbishment of the royal nursery and Elizabeth Denton, the former Lady Mistress of Henry's own nursery, was brought out of retirement in anticipation of the birth. In March 1510, Catherine entered her confinement and waited for her labour to begin. It never did. Eventually Fray Diego reported that the swelling had decreased and that Catherine was not pregnant after all. It must have been a blow for her and Henry, but she soon became pregnant and gave birth to a son, Henry, Duke of Cornwall, on New Year's Day 1511. Unfortunately, he lived just fifty-two days.
You can read Fray Diego's report to King Ferdinand of Catherine's stillbirth and the physicians' conclusions over at the Tudor Society – click here.
There is evidence for Catherine having six pregnancies:
31st January 1510 – A stillborn daughter born 33 weeks after the marriage. This is reported by Diego Fernandez, Catherine's chancellor, in the Calendar of State Papers (Spain)
1st January 1511 – Birth of a son, Henry, who died on 22nd February at just 52 days old.
17th September 1513 – Birth of a son who was either stillborn or who did not survive long. The Venetian Calendar of State Papers records that the child was alive at birth: "a male heir was born to the King of England and will inherit the crown, the other son having died."
November 1514 – The Venetian ambassador, wrote to his senate in November that "The Queen has been delivered of a stillborn male child of eight months to the very great grief of the whole court", Holinshed, the chronicler, reported that "in November the Queen was delivered of a prince which lived not long after", and John Stow wrote "in the meantime, to Whit, the month of November, the Q was delivered of a prince which lived not long after".
18th February 1516 – Birth of a daughter, Mary, the future Mary I.
10th November 1518 – Birth of a stillborn daughter. The Venetian ambassador wrote "The Queen has been delivered in her eighth month of a stillborn daughter to the great sorrow of the nation at large".
Notes and Sources
Sister Queens: The Noble, Tragic Lives of Katherine of Aragon and Juana, Queen of Castile, Julia Fox, Hardback US Version (Ballantine Books), p185-187
Catherine of Aragon: Henry's Spanish Queen, Giles Tremlett
'Queen Katharine: 1510', in Calendar of State Papers, Spain: Supplement To Volumes 1 and 2, Queen Katherine; Intended Marriage of King Henry VII To Queen Juana, ed. G A Bergenroth (London, 1868), pp. 34-44 http://www.british-history.ac.uk/cal-state-papers/spain/supp/vols1-2/pp34-44 [accessed 28 January 2015].