Posted By Claire on April 25, 2011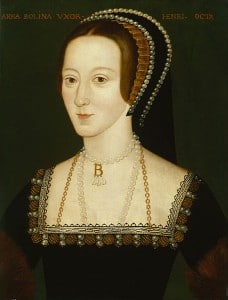 Well, we can all breathe a sigh of relief today! Our court insider has just passed on to The Anne Boleyn Files a photocopy of the King's correspondence to his ambassadors abroad in which he refers to Queen Anne Boleyn as "our most dear and most entirely beloved wife the Queen" and goes on to say:-
"for as much as there is great likelihood and appearance that God will send unto Us heirs male to succeed Us."
There were whispers around court on St George's Day that Anne Boleyn was losing influence and that the election of Sir Nicholas Carew to the order of the Garter, instead of the Queen's brother, was a public snub to Anne, but it appears that all is well with the King and Queen and that they are hopeful of a male heir. Phew!
Our roving reporter, Sir Tim Ridgway, has spoken to some courtiers for their comments on this letter written by the King and here are their comments:-
Sir David Starkey commented that Anne Boleyn was only mentioned in the King's summary of Chapuys's proposals and went on to say "If this is a ringing endorsement of his marriage, it has a distinctly hollow tone" and "Of course, the words are not Henry's own, but the summary of Chapuys's proposal."
Sir Eric Ives points out that "As well as the wording of these letters, the fact that they were sent once again says that Henry had no intention of rejecting Anne" and goes on to say that the King was instructing Richard Pate, his ambassador at Rome, "to implement a course of action predicated on the continuance of the Boleyn marriage."
Lady Alison Weir comments that this correspondence "suggests that Henry was still sleeping with Anne, and it could even imply that he thought she was pregnant again, which is highly unlikely."
It looks like we were worrying over nothing!
Sources