Here at The Anne Boleyn Files we have just heard some interesting news from our court informant. It appears that Lord Chancellor Sir Thomas Audley has set up two commissions of 'Oyer and Terminer' at Westminster, for offences carried out in the counties of Kent and Middlesex.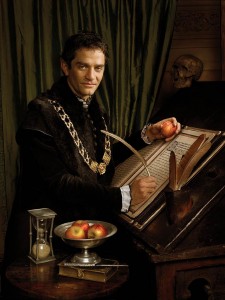 As you know, these commissions are used "to hear and to determine" criminal offences such as treason and the misprision of treason, but our court insider has no idea why these commissions have been set up and what's going on. As far as we have been able to ascertain, there is no-one in the Tower at the moment being interrogated so we'll just have to wait and see what these commissions are for. Has someone committed treason? Is there an execution on the horizon?
Lord Eric Ives, a prominent member of the court and a man who always has his finger on the pulse, has noted that the King's signature is not on the patent of the oyer and terminer and suggests that the commissions have actually been ordered by Cromwell and Audley, not the King. Interesting when we know that Cromwell has recently been away from court and came back a couple of days ago with what's reported as a rather knowing smile. Suspicious behaviour!
Rest assured that our intrepid reporter, Sir Tim Ridgway, is scouring Kent and Middlesex as I write this to try and get to the bottom of it. You'll hear it here first!
Note: You can read more about this events and the views of Eric Ives, Alison Weir and G W Bernard in "Oyer and Terminer: The Beginning of the End".
Sources