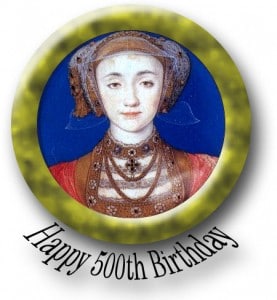 Happy 500th Birthday to Anne of Cleves!
On 22nd September 1515, Anne of Cleves, or Anna von Jülich-Kleve-Berg as she was actually known in her home country, was born near Düsseldorf. Anne was the daughter of John III, Duke of Jülich, Cleves and Berg, an important German ruler, and his wife Maria of Jülich-Berg. Anne was also the fourth wife of King Henry VIII, although the marriage only lasted six months.
Heather R. Darsie has written a special post on Anne and her upbringing in Cleves over at the Tudor Society, to celebrate her 500th birthday – click here to read that now.
You can read more about Anne in the following articles. She really is a fascinating woman: