29 September 1528 – Cardinal Campeggio arrives in England
Posted By Claire on September 29, 2015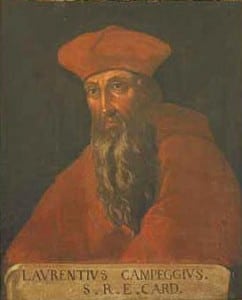 On this day in history, 29th September 1528, the papal legate, Cardinal Lorenzo Campeggio, landed at Dover on the Kent coast. He had been made papal legate in June 1528 in preparation for hearing the case for the annulment of the marriage of Henry VIII and Catherine of Aragon at a special legatine court.
Click here to read more about him and the legatine court at Blackfriars.
Also on this day in history…
1553 – Mary I created fifteen Knights of the Bath as part of her coronation celebrations. Click here to read more about this.
1564 – Robert Dudley was made Earl of Leicester, an earldom which had been planned earlier in the year to make him more acceptable as a bridegroom to Mary, Queen of Scots. Click here for more on this.