Posted By Claire on July 22, 2019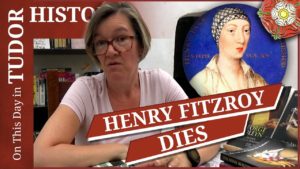 1536 was a rather eventful year for King Henry VIII – his first wife, Catherine of Aragon, died, his second wife suffered a miscarriage and was then executed for treason, he lost five of his friends on the scaffold, he got betrothed and married for a third time, he was reunited with his wayward daughter, there was the Pilgrimage of Grace rebellion… a busy year!
And on 22nd July 1536, Henry VIII lost his seventeen-year-old illegitimate son, Henry Fitzroy, Duke of Richmond and Somerset. It must have been a huge blow for the king as now he was left with just two daughters, both of whom had been declared illegitimate by Parliament. The pressure was on for Jane Seymour to get pregnant ASAP!
Find out more in today's "on this day" video:
If you prefer audio, then you can listen to my podcast at https://tudorhistory.podbean.com/e/july-22-the-death-of-henry-fitzroy-henry-viiis-illegitimate-son/
Further reading: