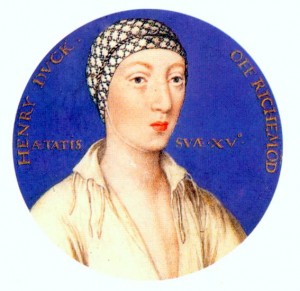 The 15th June 1519 is the date traditionally given for the birth of Henry Fitzroy, Duke of Richmond and Somerset, in Blackmore, Essex. Richmond was the acknowledged illegitimate son of Henry VIII by his mistress Elizabeth (Bessie) Blount.
Bessie had been sent by Cardinal Wolsey to reside at the prior's house of the Priory of St Lawrence, in Blackmore, before her pregnancy became visible. It is not known when Bessie gave birth to Richmond, or when the child was christened but Elizabeth Norton, historian and author of "Bessie Blount: Mistress to Henry VIII", wonders if Richmond was actually born on 18th June because Cardinal Wolsey was with Henry VIII on that day and then although he was expected at Hampton Court Palace on 19th June he disappeared until 29th June. It was Wolsey who acted as Richmond's godfather and who organised Bessie's confinement, so it is reasonable to assume that he went to Blackmore. Also, as Norton points out, Henry VIII chose 18th June 1525 to elevate his son to the peerage and 18th June 1524 to award Bessie and her husband with a royal grant, so these events may well have tied in with the boy's birthday.
Richmond was baptised at the chapel at Blackmore with Cardinal Wolsey acting as his godfather. Although, as I said, the date is unknown, it was usual for it to take place within a few days of the birth. You can find out more about Richmond's life in my article The Death of Henry Fitzroy, Duke of Richmond and Somerset.
Bessie Blount went on to marry Gilbert Tailboys, a man from Wolsey's household, in around 1522 and the couple had three children: Elizabeth, George and Robert. Elizabeth Norton is convinced that Elizabeth Tailboys was actually Henry VIII's daughter because records suggest that she was born before Bessie married Tailboys – see Was Elizabeth Tailboys the Daughter of Henry VIII. Following Tailboys' death in 1530, Bessie married Edward Fiennes-Clinton, Lord Clinton, and the couple had three daughters: Bridget, Katherine and Margaret.
Richmond died on 22nd July 1536 at St James's Palace. He was just seventeen years old and it is thought that his death was caused by some type of pulmonary infection, probably tuberculosis.