The Death of Henry Fitzroy, Duke of Richmond and Somerset
Posted By Claire on July 22, 2010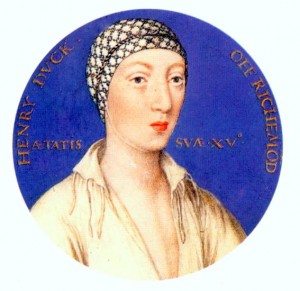 On this day in history, the 22nd July 1536 (some sources state 23rd July), Henry VIII's illegitimate son, Henry Fitzroy, 1st Duke of Richmond and Somerset, and the Earl of Nottingham, died at the age of 17.
His death was a huge blow for Henry VIII, not only because he loved his son deeply but because he was left without an heir. Henry had made both his daughters illegitimate and now he couldn't even legitimize his bastard son. Suzannah Lipscombe1 lists Henry Fitzroy's death as one of the events of 1536 that sent Henry over the edge and changed the King for ever.
But who was Henry Fitzroy? What do we know about him?
Henry Fitzroy, Duke of Richmond and Somerset
Birth: Henry Fitzroy was born on the 15th June 1519 at the Priory of St Lawrence, Blackmore, Essex
Parents: Henry VIII and Elizabeth Blount (Bessie Blount), Henry's former mistress. Bessie Blount was about 17 years of age when she gave birth to Henry. The King openly acknowledged that he was Henry's father and was proud that he had a son. Bessie went on to marry Gilbert Tailboys, 1st Baron Tailboys of Kyme in 1522, and then Lord Clinton after the death of Tailboys.
Name: Henry Fitzroy. "Fitzroy" is a Norman-French surname meaning "son of the King" and was a name given to monarchs' illegitimate sons.
Christening: Cardinal Thomas Wolsey stood as the boy's godfather at his christening.
Titles: Henry Fitzroy was enobled at the age of 6 in 1525. He was given the title Earl of Nottingham first and then made the Duke of Richmond and Somerset. Suzannah Lipscombe points out that there were only two other dukes in England at this time and by giving him a double dukedom Henry VIII was making his son the highest ranking peer in the country2. He was also made a Knight of the Garter, Lord High Admiral of England, Warden of the Cinque Ports and Constable of Dover Castle* (after George Boleyn's fall), Lord Lieutenant of Ireland, Lord President of the Council of the North, Warden of the Marches and Chamberlain of Chester and North Wales. He benefited, both financially and in status, from the falls of the five men found guilty of adultery with Anne Boleyn.
Illegitimacy: Henry Fitzroy was born to Elizabeth Blount while Henry VIII was married to Catherine of Aragon and so was illegitimate. However, Lipscombe writes that Richmond's "additional Somerset title particularly suggested that Henry VIII was smoothing the path towards legitimating his son, as John Beaufort, a royal bastards who had been legitimated in the late fourteenth century, had been the Earl of Somerset."3
Upbringing: We do not know much about Richmond's very early life but Lipscombe writes of how author Beverley A. Murphy used a letter from the royal nurse to argue that Richmond was a member of the royal nursery4. What we do know is that he was often at court and there are contemporary reports stating that he was close to his father and that Henry VIII took an interest in his education and upbringing. Alison Weir5 writes of how Richmond was sent to live with tutor, Richard Croke, at King's College, Cambridge, at an early age.
Appearance: John Joachim, Seigneur de Vaux and the French Ambassador, wrote of Richmond as " a most handsome, urbane and learned young gentleman, very dear to the King on account of his figure, discretion and good manners… he is certainly a wonderful lad for his age" and in 1531, the Venetian Ambassador said: "so much does he resemble his father."6
Marriage: Alison Weir7 writes of how, when Henry Fitzroy was aged 6, Henry VIII considered marrying the boy off to his half-sister Mary in order to legitimize his claim to the throne. Henry was desperate at this time because it was evident that Catherine was no longer fertile and he had no male heir. The marriage never took place and instead Henry pinned his hopes on marrying Anne Boleyn. On the 25th November 1533, at the age of 14, Henry Fitzroy married Lady Mary Howard, daughter of Thomas Howard, the 3rd Duke of Norfolk and Anne Boleyn's uncle. According to Alison Weir, it was Anne Boleyn who organised this marriage. Richmond died before the couple's three year wedding anniversary and Antonia Fraser states that the marriage was never consummated, due to their young age.
The Fall of Anne Bolyn: According to the list in the Baga de Secretis, Richmond was one of the peers on the jury of the trial of Anne Boleyn on the 15th May 1536 and Alison Weir writes that Richmond was present at Anne Boleyn's execution and that he "was doubtless there at his father's command, as his representative, and may have wanted to watch because he believed that Anne had tried to poison him."8 This refers to reports that on the night of Anne Boleyn's arrest Henry VIII visited his son, "embraced him and wept as he told him that he and his half-sister Mary ought to thank God for escaping "that cursed and venomous whore, who tried to poison you both"."9
Death: Henry Fitzroy, Duke of Richmond and Somerset, died on the 22nd July 1536 (some historians say that it was the 23rd) at St James's Palace. Lipscombe states that Richmond died of tuberculosis (consumption) whereas Julian Litten believes that he may have died of some genetic condition which was the same condition that killed his uncle, Prince Arthur, and his half-brother, Edward VI10. Philippa Jones11 writes that the speed of his burial suggests that he may well have died of pneumonic plague. There was no autopsy and the King did not give his beloved son a state funeral, instead he left the arrangements to the Duke of Norfolk.
Burial: Philippa Jones writes of how "rumour said that at first Richmond's body was hastily buried at Thetford, in a stable yard, and moved later. Another version, probably correct, said his body was placed in a sealed coffin and transported in a cart covered with straw to rest in Thetford Priory, where others of the Howard family were buried."12

Resting Place: Henry Fitzroy, Duke of Richmond, was originally buried at Thetford Priory, Norfolk, but his tomb was moved to St Michael's Church, Framlingham, Suffolk. His wife, Mary Howard, was interred in the tomb after her death in 1557. The St Michael's Church website13 describes the friezes decorating the tomb:-
"The scenes on the frieze are all from the Old Testament. On the north side are: the birth of Eve; God giving the Garden in charge of Adam and Eve; the Temptation; and the Expulsion. On the west: the nursing of Cain and Abel, and Adam digging; Cain and Abel sacrificing, and Cain killing Abel. On the south side are: Noah's Ark ; the drunkenness of Noah; Abraham and the Angels; and Lot escaping from Sodom and Gomorrah . On the east are Abraham and Isaac; and Moses and the Tables, and the Israelites sacrificing to the Golden Calf."
You can see a photo of the tomb halfway down the page at http://www.onesuffolk.co.uk/StMichaelsChurchFram/Historicaltombs/
Trivia: In "The Tudors", they killed Fitzroy off as a child but, in reality, he lived until he was 17 years of age and outlived Anne Boleyn.
Notes and Sources
1536: The Year That Changed Henry VIII, Suzannah Lipscomb
Ibid., p90
Ibid., p91
Ibid.
The Six Wives of Henry VIII, Alison Weir, p123
Lipscombe, p91
The Six Wives, p134
The Lady in the Tower, Alison Weir, p264
The Six Wives, p320
The Other Tudors: Henry VIII's Mistresses and Bastards, Philippa Jones
Ibid., p94
Futher Reading
*Alison Weir writes of how Richmond was "appointed Warden of the Cinque Ports and Constable of Dover Castle in place of Rochford" and cites Beverley Murphy "Bastard Prince: Henry VIII's Lost Son"(2001) but Letters and Papers records Sir Thomas Cheyney being appointed Warden of the Cinque Ports and Constable of Dover Castle in May 1536 (LP x.898, 1015)