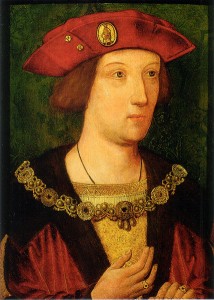 "Afore one o'clock after midnight" on the 20th September 1486 (some say the 19th) Elizabeth of York, wife of King Henry VII, gave birth to a son, Arthur Tudor or Arthur, Prince of Wales, as he would become in 1489.
You can read more about Arthur, his birth, christening, upbringing, marriage to Catherine of Aragon and his death, in my article "Arthur, Prince of Wales", but here are a few Arthur facts:-
Arthur was born in Winchester, not London – Winchester was believed to have been the capital of King Arthur's Camelot.
Arthur is buried in Worcester Cathedral, not Westminster Abbey.
He was born around a month premature
John de Vere, 13th Earl of Oxford, was meant to be Arthur's godfather but was late for the service and so missed out!
He was contracted to marry Catherine of Aragon when he was two years old.
Arthur was just 15 years old when he died on the 2nd April 1502 and had been married less than 5 months.
His widow married his brother!
His marriage to Catherine of Aragon is still causing controversy today with historians and history lovers arguing over whether or not it was consummated.