19 July – Mary Boleyn, a new queen, the Mary Rose and a noble imp
Posted By Claire on July 19, 2019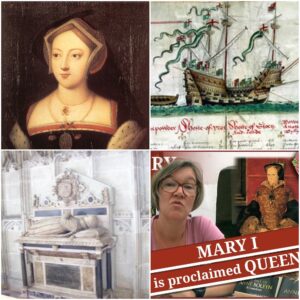 19th July is a very busy day in terms on "on this day in Tudor history" events, so I thought I'd give you brief details on four of the events, along with links for further reading and today's "on this day" video.
On this day in history, 19th July 1543, Mary Stafford (née Boleyn), wife of William Stafford, died. She was in her early 40s. Mary was the daughter of Thomas Boleyn, Earl of Wiltshire and Ormond, and his wife, Elizabeth Howard. She was the granddaughter of Thomas Howard, 2nd Duke of Norfolk, and was also the sister of the late Queen Anne Boleyn and George Boleyn, Lord Rochford.
At the time of her death, Mary was married to William Stafford, but had previously been married to William Carey, a member of Henry VIII's Privy Chamber and an Esquire of the Body. She had two children during the course of her first marriage: Catherine, born in around 1524, and Henry, born in 1526. Carey died of sweating sickness in June 1528 and Mary went on to marry Stafford secretly and without her family's permission in 1534.
On this day in history, the 19th July 1545, Henry VIII's flagship, the Mary Rose, sank right in front of his eyes in the Battle of the Solent between the English and French fleets.
We still do not know exactly why the Mary Rose sank, all we know for certain is that the English fleet moved out to attack the French fleet in the late afternoon of the 19th as "a fitful wit sprang up" and that something went wrong as the ship carried out a turning manoeuvre.
On this day in Tudor history, 19th July 1584, three-year-old Robert Dudley, Baron Denbigh, son of Robert Dudley, Earl of Leicester, and his wife, Lettice (Knollys), died at Wanstead. He was laid to rest in the Beauchamp Chapel of the Collegiate Church of St Mary in Warwick, and his tomb pays tribute to "the noble imp".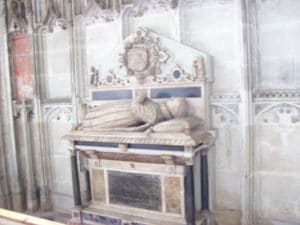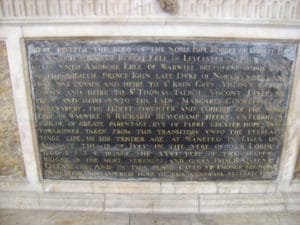 And also on this day in Tudor history, 19th July 1553, thirteen days after the death of her half-brother, Edward VI, Mary was proclaimed queen in place of Queen Jane.
Photos of the tomb of Robert Dudley, Baron Denbigh, copyright Tim and Claire Ridgway.