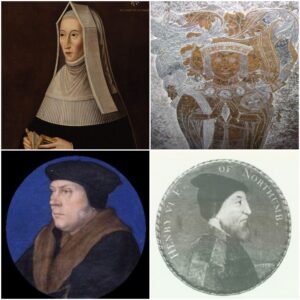 29th June is a busy day for "on this day in Tudor history" events, and I thought I'd share with you some information on a few of them.
On this day in history, 29th June 1536, Thomas Boleyn, Earl of Wiltshire, was stripped of his office of Lord Privy Seal, an office he had held since January 1530. His demotion came just over a month after the executions of his children, Queen Anne Boleyn and George Boleyn, Lord Rochford, and it was Thomas Cromwell, the king's right-hand man, who was chosen as his replacement and who was formally appointed on 2nd July 1536. You can click here to read more.
On 29th June 1537, Henry Algernon Percy, the eldest son of Henry Algernon Percy, 5th Earl of Northumberland, and former sweetheart of Anne Boleyn, died at around the age of thirty-five. He was buried at Hackney Parish Church, and his will appointed the King as Supervisor and Edward Fox, Bishop of Hereford, and Thomas Cromwell as executors. Click here to read more about him.
On this day in history, 29th June 1540, nineteen days after his arrest, a Bill of Attainder was passed against Thomas Cromwell, Earl of Essex, and King Henry VIII's former right-hand man.You can click here to read more about this.
Today is also the anniversary of the death of sixty-six-year-old Lady Margaret Beaufort on 29th June 1509, just four days after she enjoyed the coronation celebrations of her grandson King Henry VIII and his queen consort. Catherine of Aragon. Here is a video on this fascinating Tudor lady: