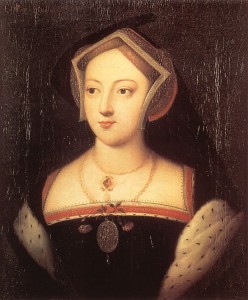 On this day in history, 19th July 1543, Mary Stafford (née Boleyn, other married name Carey), died. She was in her early 40s1.
Mary was the daughter of Thomas Boleyn, Earl of Wiltshire and Ormond, and Elizabeth Howard, and the granddaughter of Thomas Howard, 2nd Duke of Norfolk. She was also the sister of Queen Anne Boleyn. Mary had married her first husband, William Carey, a member of Henry VIII's Privy Chamber and an Esquire of the Body, on 4th February 1520. She had two children during the course of their marriage: Catherine, born in around 1524, and Henry, born in 1526. Carey died of sweating sickness in June 1528 and Mary went on to marry William Stafford secretly and without her family's permission in 1534. She turned up at court pregnant in 1534 but there is no record of what happened to her baby.
Mary died on 19th July 1543. The translation of her inquisition post mortem, which can be found in the Essex Record Office, lists the property she held at the time of her death:
"[…] property including manors of High Roding, Great Holland, Leigh, Wakering, Hawkwell, Doggetts [in Rochford], East Hall and South Hall [in Paglesham], Foulness, manor or barony of Rochford, lands called Southwick, Eastwick, Ormondeswick, Arundels Marsh, Monkebarne [Monkton Barn], Rugworth [Rugwood], and Nasewick, all in Foulness, and tillat in Walattis alias Tylforde in Watys [Tillettsmarsh in detached part of parish of Great Stambridge on Wallasea Island]."2
Her heir was her son Henry who, according to the inquisition, was aged 17 years 15 weeks and 5 days on 22 July 1543.
Mary had inherited the properties listed following the deaths of her father, grandmother and sister-in-law – in 1539 and 1542 – but had had to wait until May 1543 to be granted them. Here's a record dated 15th May 1543:
"Wm. Stafford and Mary his wife, kinswoman and heir of lady Marg. Bolleyn, widow, dec., viz. daughter of Thos. late earl of Wiltshire and Ormund, son of the said Margaret. Livery of lands of the said Thomas and Margaret and of those held by Joan [Jane] late wife of Sir George Bulleyn lord Rocheford, dec., by way of jointure."3
It is not known where Mary was laid to rest in 1543. Her children went on to serve their cousin, Elizabeth I, faithfully, and Mary's husband, William, went on to marry Dorothy Stafford, daughter of Henry Stafford, 1st Baron Stafford, and Ursula Pole, daughter of Margaret Pole, Countess of Salisbury. William and Dorothy had six children.
Very little is known about Mary Boleyn. Historian Eric Ives once said to me that what we know about her could be written on a postcard with room to spare, but I've managed to put a few facts together in my article Mary Boleyn – One Big Boleyn Myth? and you can download a PDF report with clickable links to articles on Mary Boleyn and her children, Catherine and Henry Carey, along with a book list at www.theanneboleynfiles.com/pdf-reports/mary-boleyn/.
Also on this day in history…
1545 – Henry VIII's flagship, the Mary Rose, sank right in front of his eyes in the Battle of the Solent between the English and French fleets. Click here to read more.
1553 – Mary I was proclaimed Queen in place of Queen Jane. Click here to read more.
Notes and Sources
Picture: Portrait of an unknown woman said to be Mary Boleyn, Hever Castle.4
Most historians believe that Mary was the eldest of the Boleyn siblings and that she was born c.1499/1500.
Inquisition Post Mortem of Mary Carey, late w. of William Stafford, esq., and daughter and sole h. of Thomas late Earl of Wiltshire and Ormond, Ref D/DU 514/29/5, Fonds MANORIAL RECORDS OF FOULNESS, Essex Record Office. The transcription online gives her date of death as 1542 but this must be wrong because we know Mary was alive in May 1543 when she was finally granted her inheritance. The transcript can be read at https://secureweb1.essexcc.gov.uk/SeaxPAM/ViewCatalogue.aspx?ID=169088.
LP (Letters and Papers, Foreign and Domestic, Henry VIII) xviii. i. 623.66.
Alison Weir does not believe that this portrait of Mary, pointing out that the sitter is depicted wearing ermine, which she says was a "fur reserved exclusively for royalty and peers of the realm". (Weir, Alison (2011) Mary Boleyn: The Great and Infamous Whore, Appendix II, p250.) However, author Susan Higginbotham researched the sumptuary legislation dating back to Edward IV's reign and according to the legislation of 1463, Mary Boleyn was permitted to wear ermine because she was married to an Esquire of the Body (William Carey). Susan could not find any mention of that law being changed. Costume expert Bess Chilver also pointed out that ermine was not restricted to the royal family and that people would also make their own fake ermine from white rabbit fur.("Mary Boleyn or Francis Brandon?" – Blog article by Susan Higginbotham (see comments below the main post for the sumptuary law legisation) at http://www.susanhigginbotham.com/blog/posts/mary-boleyn-or-frances-brandon/.