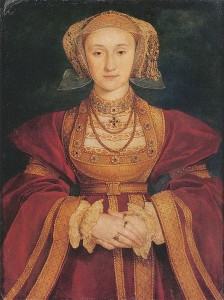 On the 16th July 1557, Anne of Cleves died at Chelsea Old Manor after a few months of illness. On the same day, her body was embalmed and placed in a coffin covered with a cloth bearing her arms. Tapers were lit around her coffin and prayers said on a daily basis.
On the 3rd August, according to diarist Henry Machyn, her coffin was moved from Chelsea to Westminster in preparation for her burial the next day. Anne was buried on the 4th August with Elizabeth, Marchioness of Winchester, acting as chief mourner. The officers of her household broke their staves of office and threw them into her tomb. It was the end of a woman who had survived marriage to Henry VIII and who had outlived him and all of his other wives.
In her will, Anne left her jewellery to her stepdaughters, Mary and Elizabeth, showing her love for them.
You can read more about Anne of Cleves in the following articles:
Also on this day in history…
1517 – Birth of Frances Grey (née Brandon), Duchess of Suffolk, at Hatfield. She was born on St Francis's Day and was the eldest daughter of Charles Brandon, Duke of Suffolk, and Mary Tudor, widow of Louis XII and sister of Henry VIII.
Notes and Sources
Anne [Anne of Cleves] (1515–1557), queen of England, fourth consort of Henry VIII by Retha M. Warnicke, Oxford Dictionary of National Biography
Anne of Cleves: Henry VIII's Discarded Bride by Elizabeth Norton
'Diary: 1557 (July – Dec)', The Diary of Henry Machyn: Citizen and Merchant-Taylor of London (1550-1563) (1848), pp. 141-162. URL: http://www.british-history.ac.uk/report.aspx?compid=45520 Date accessed: 16 July 2012