11 May 1536 – Queen Anne Boleyn's busy lovelife – The Fall of Anne Boleyn
Posted By Claire on May 11, 2019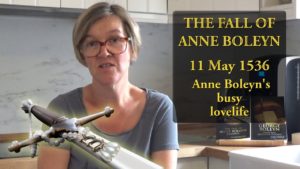 On this day in 1536, 11th May, the Grand Jury of Kent met to rule on the alleged offences committed by Queen Anne Boleyn and her alleged lovers in the county.
In today's video, I look at the dates, places and crimes, cited in the indictment. If we're to believe the jury, Queen Anne Boleyn was a very busy lady!
I'm doing these "Fall of Anne Boleyn" videos daily until 19th May and I started on 24th April. You can catch up with them on the Anne Boleyn Files and Tudor Society Youtube Channel.
You can find out more about my book The Fall of Anne Boleyn: A Countdown at http://getbook.at/fallanneboleyn.
If you prefer reading articles to watching videos, you can click here to read more.