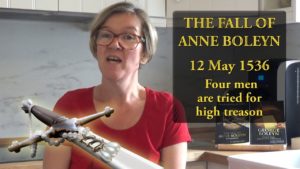 On this day in 1536, 12th May, Sir Henry Norris, Sir Francis Weston, William Brereton and Mark Smeaton were tried for high treason at Westminster Hall.
Spoiler alert – they were all found guilty and condemned to death.
I explain more in today's video.
I'm doing these "Fall of Anne Boleyn" videos daily until 19th May and I started on 24th April. You can catch up with them on the Anne Boleyn Files and Tudor Society Youtube Channel.
You can find out more about my book The Fall of Anne Boleyn: A Countdown at http://getbook.at/fallanneboleyn.
Here's the link to find out about the members of the jury, the commission that tried these men – https://www.theanneboleynfiles.com/12th-may-1536-4-men-and-a-trial/5351/, and you can find out more about the men who fell with Queen Anne Boleyn in this video from Clare Cherry – https://youtu.be/Szp-3HgA2kA