11 February 1542 – The bill of attainder against Catherine Howard and Jane Boleyn is given royal assent
Posted By Claire on February 11, 2018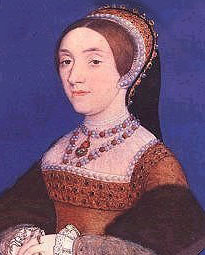 On this day in history, 11th February 1542, the bill of attainder against Catherine Howard, Henry VIII's fifth wife, and Jane Boleyn, Lady Rochford "received the king's assent, given in absentia by letters patent".
The bill had been introduced into Parliament on 21st January 1542 and you can read the full bill in my article on it – click here – but Catherine had "proved to have been not of pure and honest living before her marriage" and had allegedly wanted to "return to her old abominable life." She had also "confederated with lady Jane Rocheford, widow, late wife of Sir Geo. Boleyn, late lord Rocheford, to 'bring her vicious and abominable purpose to pass' with Thos. Culpeper, late one of the King's Privy Chamber", who, of course, had already been executed with Francis Dereham in December 1541.
The bill also stated that "the indictments of such as have lately suffered are hereby approved, and the said Queen and lady Rochford are, by authority of this Parliament, convicted and attainted of high treason, and shall suffer accordingly." They did "suffer accordingly", being executed by beheading at the Tower of London on 13th February 1542.
Also on this day in history…
1466 – Birth of Elizabeth of York, wife of King Henry VII and daughter of King Edward IV and Elizabeth Woodville. She also died on this day in 1503. Click here to read more.
Convocation granted Henry VIII the title of "singular protector, supreme lord, and even, so far as the law of Christ allows, supreme head of the English church and clergy". Click here to read more.
Notes and Sources
Letters and Papers, Foreign and Domestic, Henry VIII, Volume XVII (LP xvii), 28 ii Acts printed in the Statutes at Large, but not entered on the Parliament Roll, C21.
LP xvii. 28 xv c. 20, o.n. 33 of the year 37 Hen. VIII.
ed. Wharton, Thomas I., Esq (1842) The Law Library, Volume 38, John S. Littell, p.230.