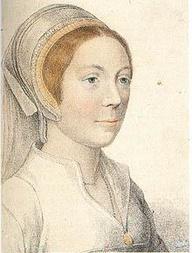 On 21st January 1542 a bill of attainder against Catherine Howard and Lady Jane Rochford was introduced into the House of Lords. According to this bill, the women were guilty of treason and could be punished without there being any need for a trial.
Retha Warnicke points out that although the bill was introduced into Parliament on 21st January 1542, it was not passed on that day. She writes that there seemed to have been "uncertainty among the judges, however, about whether the former queen's offence constituted treason", so it was read again on 28th and again postponed. It finally "received the king's assent, given in absentia by letters patent, on 11 February".
Here is the record of the attainder from Letters and Papers:
"Attainder of Katharine Howard and others.—Katharine Howard whom the King took to wife is proved to have been not of pure and honest living before her marriage, and the fact that she has since taken to her service one Francis Dereham, the person with whom she "used that vicious life before," and has taken as chamberer a woman who was privy to her naughty life before, is proof of her will to return to her old abominable life. Also she has confederated with lady Jane Rocheford, widow, late wife of Sir Geo. Boleyn, late lord Rocheford, to "bring her vicious and abominable purpose to pass" with Thos. Culpeper, late one of the King's Privy Chamber, and has met Culpeper in "a secret and vile place," at 11 o'clock at night, and remained there with him until 3 a.m., with only "that bawd, the lady Jane Rocheford." For these treasons, Culpeper and Dereham have been convicted and executed, and the Queen and lady Rochford stand indicted.
The indictments of such as have lately suffered are hereby approved, and the said Queen and lady Rochford are, by authority of this Parliament, convicted and attainted of high treason, and shall suffer accordingly; and the said Queen, lady Rocheford, Culpeper, and Dereham shall forfeit to the Crown all possessions which they held on 25 Aug. 33 Hen. VIII. The Royal assent to this Act shall be given by commission. And where Agnes duchess of Norfolk, widow, and Katharine countess of Bridgewater, wife of Henry earl of Bridgewater, are indicted of misprision of treason for concealing the first treasons, and lord William Howard, lady Margaret Howard his wife, Edw. Walgrave, Kath. Tylney, Alice Restwold, Joan Bulmer, Anne Howard, Robt. Damporte, Malyn Tylney, Marg. Bennet, and Wm. Assheby have been convicted of the said misprision, all of them shall forfeit their goods to the King, and be imprisoned for life, and the King shall take the revenues of their lands from 1 Oct. 33 Hen. VIII. for term of their lives. To avoid doubts in future, it is declared that the Royal assent given by commission shall be valid in all cases hereafter, that any lightness of the queen for the time being may be revealed to the King or his Council, and that an unchaste woman marrying the King shall be guilty of high treason."
As an eye-witness to the proceedings later pointed out, Catherine was not attainted for adultery, but rather for her "dissolute life previous to her marriage" and this bill of attainder also made it treason for "an unchaste woman" to marry the King. This emphasis on Catherine's colourful past, rather than her alleged adultery with Thomas Culpeper, may explain why Francis Dereham suffered a full traitor's death (he was hanged, drawn and quartered) whereas Thomas Culpeper was beheaded. Of course, it may just have been because Culpeper was Henry VIII's groom.
Catherine and Jane were beheaded at the Tower of London on 13th February 1542 and laid to rest in the Chapel of St Peter ad Vincula.
Also on this day in history…
1556 – Death of Eustace Chapuys, former Imperial ambassador, in Louvain, the place he had retired to in 1549. He was laid to rest in the Chapel of Louvain College, the college he had founded. See Eustace Chapuys, Imperial Ambassador for more on him.
Notes and Sources
Warnicke, Retha (2004) 'Katherine [Katherine Howard] (1518×24–1542)', Oxford Dictionary of National Biography, Oxford University Press.
LP xvii. 28 ii Acts printed in the Statutes at Large, but not entered on the Parliament Roll, C21
Hansard, Thomas Curson (1821) The Parliamentary Debates, Volume 3, Great Britain. Parliament, p754