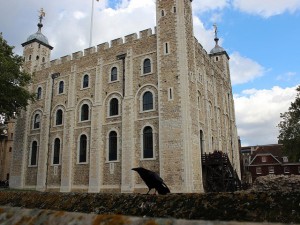 On this day in history, on the night of 9th February 1542, four days before her execution, Jane Boleyn, Lady Rochford, was rowed to the Tower of London.
While her mistress, Catherine Howard, was confined at Syon, Jane had been residing at the home of Sir John Russell, Lord Admiral, on the Strand. Jane had initially been taken to the Tower around 14th November 1541, and her possessions were inventoried on 16th November, but Chapuys reported that "on the third day after her imprisonment" she was "seized with a fit of madness (frenesi) by which her brain is affected." Chapuys goes on to report that due to her madness she was sent to be taken care of by Anne Russell, the Lord Admiral's wife, and that the king "gets his own physicians to visit her, desiring her recovery that he may afterwards have her executed as an example."
Although Chapuys reported at the beginning of December 1541 that "now and then she recovers her reason", the king wanted to make sure that Jane's mental state would not prevent her being punished. On 11th February 1542, the same day that the bill of attainder against Catherine Howard and Jane Boleyn received royal assent, an act "for due process to be had in high treason in cases of lunacy or madness" also received royal assent in the House of Lords. This meant that "a person becoming insane after the supposed commission of treason, might be tried; or losing his rational faculties after attainder, might be executed", i.e. even a mad Lady Rochford could be executed for treason.
On 10th February 1542, Catherine Howard was escorted from Syon to the Tower of London – click here to read more.
Notes and Sources
Wriothesley, Charles. A chronicle of England during the reigns of the Tudors, from A.D. 1485 to 1559, Volume 1, Printed for the Camden Society 1875-1877, p. 133.
Calendar of State Papers, Spain, Volume 6 Part 1, 1538-1542, 209.
Letters and Papers, Foreign and Domestic, Henry VIII, Volume 16, 1540-1541, 1401.
Fox, Julia (2007) Jane Boleyn: The Infamous Lady Rochford, Phoenix, p. 365.