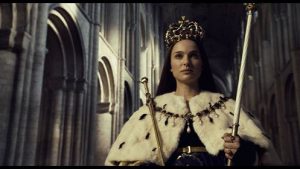 Thank you to author Danielle Marchant for visiting us today and sharing this article as part of the celebrations for the release of her latest historical novel, The Treacheries of Fortune, the third book in her "The Lady Rochford Saga".
The 1st June 1533 not only saw Anne Boleyn's triumph, her coronation; it was also a triumph for the Parker family, particularly for Jane Boleyn and her brother, Henry Parker.
On the 30th or 31st May, Jane's brother, Henry Parker, was made a Knight of the Bath. Creating Kings of the Bath had been a coronation ritual for over two hundred years, and Henry was following in the footsteps of his and Jane's father, Henry Parker, Lord Morley, who had become a Knight of the Bath when Henry VIII was crowned in 1509. Now for his son, becoming a Knight involved a series of rituals.
First Henry would have served the King water, or a dish from the first course at dinner, "in token that they shall never bear none after that day". He was then taken to the White Tower along with seventeen other young men. They would have had individual baths, with pieces of soap wrapped in clean white linen cloths prepared for them. Their hair would have been cut and their beards shaved, then permission was asked from the King to proceed with the bath itself. The men were then lowered into their baths where they would take the oath of Knighthood.
Henry would then have stepped out of the bath and gone to lie in his bed to dry. Then, with the help of squires, Henry got dressed in a black cloak with long sleeves and a hood before making his way to the cold stone chapel, accompanied by music from the musicians, to spend the hours of darkness in prayer and meditation. When dawn approached, he confessed his sins and took part in mass, removing his hood briefly at the elevation of the host. Before taking the sacrament, they would have offered tapers, each of which had a small coin fastened to it, to worship God and give thanks to the king.
The knights were then led back to their beds to have a few hours of sleep. Henry was then woken-up again and helped to dress by squires, then he would have mounted a horse, which was also prepared according to ancient ritual. Henry Parker would have then ridden to the door of the room inside which the king was waiting. After dismounting, he would have walked towards the king, who would then have unbuckled the sword from Henry's waist and smacked the side of his neck saying "Be ye good knight", before kissing him. He then dined and prayed before dressing in a blue robe. He was now Sir Henry Parker.
In the meantime, Jane Boleyn, who would not have seen her brother being made into a Knight of the Bath, was preparing for her own big moment. On the day before Anne's coronation, Jane accompanied her as she made her way from the Tower, through the streets hung with velvet and cloth of gold, to Westminster. Along the route, were many ordinary citizens leaning out of windows, or pushing their way to the front of the crowds, trying to catch a glimpse of Anne. Being very close behind in Anne's train, Jane would also have drawn the looks of the crowds.
Anne appeared in a litter covered in silver cloth of gold drawn by horses draped in silver damask. Anne herself wore white cloth of gold and a jewelled circlet which shone on her dark hair, which she wore loose around her shoulders. Then, riding almost immediately behind her, was Jane, in a prominent place even before Anne's own sister. This was more than her rank entitled Jane to and proved how close she was to Anne. Jane rode side-saddle with six other ladies, including Lady Mary Howard and the Countesses of Derby, Worcester and Sussex. Jane wore a sumptuous gown of crimson velvet and red cloth of gold.
Then, the big day arrived. Jane accompanied Anne again in a prominent position in Anne's train, following her into Westminster Abbey and being close by as Anne sat upon St. Edward's Chair and was crowned. Then, wearing a coronet of her own and accompanied by a fanfare of trumpets, Jane followed Anne back to a richly decorated Westminster Hall for a magnificent banquet. Jane was seated in a position of honour at a table reserved especially for the ladies of the court, including Jane's mother, Alice. Jane had spent many years in court and had taken part in masques, but those could not be compared to the lavishness of the events surrounding the coronation. This was a coronation that Jane was not going to forget.
Danielle
I am an Independent Author from London, UK. Parts 1 and 2 of my series of historical novellas based on Jane Boleyn Lady Rochford's life, "The Lady Rochford Saga", are available now. Part 3, "The Treacheries of Fortune" will be released on the 15th December 2017 and is now available to pre-order: http://amzn.to/2Ac8Mly.
Visit my pages at https://www.facebook.com/TheLadyRochfordSaga and at http://danielleliannem.wix.com/janeboleyn.
Notes and Sources
Julie Fox (2007) Jane Boleyn: The Infamous Lady Rochford
Image – Anne Boleyn on her Coronation Day, as portrayed by Natalie Portman in "The Other Boleyn Girl".